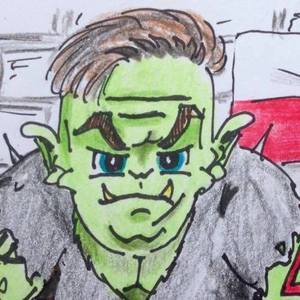 Chris Pustelnik
Special guest

Chris Pustelnik is a guy who has always suffered from an over-active imagination and not enough outlets. He enjoys tabletop RPGs, board gaming, horror films, the Oxford comma, writing, and drawing... poorly. He's been a GM and player off and on since the first time he ran a 2nd edition Dungeons and Dragons campaign in his parents' garage. The campaign would go on to last several years and scar some neighborhood children for a lifetime – some even bringing it up twenty-five years later at his brother's wedding. Currently, Chris is working on the Corpses and Curios podcast – a GURPS actual-play podcast focusing on modern day horror and mystery. Look for it this summer!
Also, Chris has been known to work for pierogi and craft beer.
Chris Pustelnik has been a guest on 1 episode.
Episode | April 29th, 2018 | Season 1 | 54 mins 50 secs

conventions, geeks, lexicon, magpie games, masks, roleplaying games, the region

The Favorite had to work, so The Curmudgeon and the Legend went to Lexicon, an amazing gaming convention in Lexington, Kentucky. After playing in some tabletop games there, they bring in the show's first guest, The Pollack, to talk about convention games. Covering everything from planning, promoting and actually running a con game, Ryan, Carie and Chris do their best to figure out the formula to make running and playing con games be as much fun as possible.