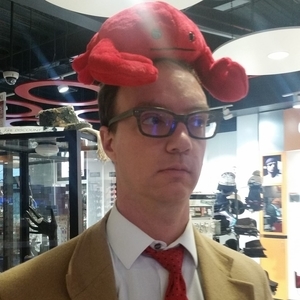 Doug Levandowski
Special guest
Doug Levandowski is an English teacher and game designer from New Jersey. He's best known for the RPGs Kids on Bikes and Teens in Space, both with Jonathan Gilmour.
His most recent games are Kids on Brooms (with Jonathan and Spenser Starke) and the card game Aunt Agatha's Attic. He's infrequently on Twitter and too frequently on Facebook.
Doug Levandowski has been a guest on 1 episode.
Episode | May 7th, 2020 | Season 3 | 1 hr 16 mins

characters, dungeons and dragons, experience points, game design, games, geeks, larp, mush, pathfinder, podcast, roleplaying, rpg, tabletop, world of darkness, xp

The fun flies in on a broomstick this week as the Curmudgeon and the Legend are joined by the creators of the all new Kids on Brooms rpg! Jonathan Gilmour and Doug Levandowski (who created Kids on Bikes) join us with their Kids on Brooms co-creator Spenser Starke to talk about these amazing games!