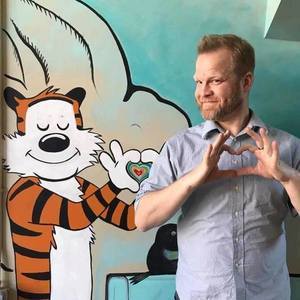 Drew Meyer
Special guest
Drew Meyer is a librarian and educator with 35 years of gaming experience. He has written for, edited and helped publish a dozen games and sourcebooks. He's currently working on designing more games than is probably healthy.
In the evenings, he moonlights as a game designer and podcaster. You can hear him every month interviewing guests and chatting about Doctor Who on the Who and Company Podcast.
He's passionate about inspiring a love of gaming of all types to all ages.
He may or may not have a beard.
Drew Meyer has been a guest on 1 episode.
Episode | June 18th, 2020 | Season 3 | 1 hr 8 mins

characters, dungeons and dragons, experience points, game design, games, geeks, kids, larp, mush, pathfinder, podcast, roleplaying, rpg, tabletop, world of darkness, xp

Librarian and gamer Drew Meyer joins the Favorite, the Curmudgeon and the Legend to talk about his experiences running RPGs for kids and teens. Carie, Jason and Ryan explore the wonders and challenges of young gamers and learn Drew's 10 Rules For Running Kid-Friendly Games!