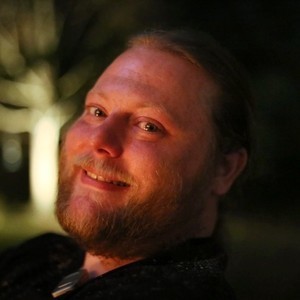 Jim Beverly
Special guest
Jim Beverly is a fledgling writer and game designer originally from Akron, Ohio. He served more than 14 years in the US Army, is a veteran of the wars in Iraq and Afghanistan, and a recipient of the Purple Heart. He currently lives in Atlanta, where he attends the Savannah College of Art and Design for Interactive Game Design and Development. He is also working at Giga-Bites Café as a professional RPG gamemaster.
Jim has always found roleplaying and gaming to be one of his chief coping mechanisms for dealing with anxiety and trauma. From scribbling characters from books and video game instruction manuals in elementary classes to ripping up pieces of paper with numbers on them and drawing them from a hat to substitute for dice when running a game for other troops in Basic Training, he's always found a way to integrate gaming into his life.
After medically separating from the military in 2017 and entering the "real world" of adulthood as a disabled veteran, he's had the opportunity and privilege to meet and work with several wonderful creators and content producers, expanding his knowledge and versatility in his craft.
The Midnight World is Jim's first official credit, though he plans to compile all of the adventures he's written for work and release them as well. The Midnight World is scheduled to launch on Kickstarter in March of 2020.
Jim Beverly has been a guest on 1 episode.
Episode | February 13th, 2020 | Season 3 | 1 hr 10 mins

characters, dungeons and dragons, experience points, game design, games, geeks, larp, mush, pathfinder, podcast, roleplaying, rpg, tabletop, world of darkness, xp

Indie game developers James Davey and Jim Beverly join the Favorite, the Curmudgeon and the Legend to talk about their upcoming tabletop rpg, The Midnight World. Carie, Jason and Ryan talk with these two incredible combat veterans about their game and its unique focus on PTSD and mental health awareness!