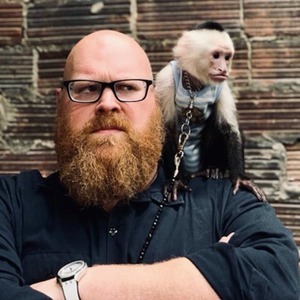 Rob Alderman
Special guest
Rob Alderman is an award winning communications strategist and a senior partner at The Alderman Group, a South Eastern-based creative firm that serves clients throughout the United States. Rob has a passion for the places where new digital media channels and old school communication theories collide, helping brands connect with their audiences by crafting stories that resonate in meaningful ways.
Alderman is also the VP of Digital Strategy for Social Joey, a social media company that provides franchise organizations with the ability to compete in the digital world. He is a devoted and loving husband and father, an entrepreneur, rock and roller and adventurer.
Rob Alderman has been a guest on 1 episode.
Episode | May 1st, 2020 | Season 3 | 1 hr 8 mins

characters, dungeons and dragons, experience points, game design, games, geeks, kids on bikes, larp, mush, orcs, pathfinder, podcast, racism, roleplaying, rpg, tabletop, tolkien, world of darkness, xp

Are Orcs a racist construct from Tolkien that persists in modern day Dungeons and Dragons, or is it a lot to do about nothing? After a firestorm on Twitter, the Favorite, the Curmudgeon and the Jason's Replacement do a deep dive into Tolkien, orcs and racism.