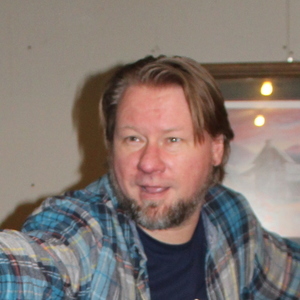 Ryan - The Curmudgeon
Co-Host of On A Roll

Ryan Faricelli is often found speaking on social media, crisis communications, public relations, gaming and all manner of film. He has lived in Los Angeles, Chicago and Chattanooga, and is currently a public relations specialist for a billion dollar healthcare corporation. He attended film school at Columbia College in Chicago, was creator and host of the film-centered radio show and podcast Lights Camera Cleveland, is co-founder of the Cleveland Geekster toy and comic show and wrote the book upon which this podcast is based: "On A Roll: Level Up Your RPG".
Ryan began role-playing with the Marvel Superheroes tabletop game in 1989. In college he was introduced to Dungeons & Dragons, the West End Games' Star Wars, Last Unicorn Games' Star Trek and World of Darkness.
In 2001, Ryan played his first LARP, Werewolf: the Apocalypse, in One World By Night. He served as a Tribal Narrator for several years and eventually founded and acted as Head Storyteller for a Vampire: the Masquerade game 2003 and in 2004 became Head Storyteller of one of the largest Werewolf games in the org.
Along with several others, Ryan was one of the founders of The Garou Nation in 2005, and served as Tribal Narrator for various tribes from 2005 until 2011. Ryan also served as the developer and final author of TGN's entire system of Bylaws and Administration Policies until he left the organization in 2011.
Ryan was the Communications Director for the LARP organization Underground Theater for four years and currently helps run Adventurers Not Wanted (a D&D-style game where players play Level 0 townsfolk). Ryan is currently working on an original tabletop RPG called "The Gun Belt."
Ryan - The Curmudgeon has hosted 104 Episodes.