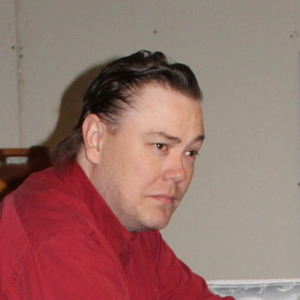 Jason - The Favorite
Co-Host of On A Roll

Professsionally, Jason Hughes is a carpenter, but his passion is roleplaying games – in particular, LARPs. He has been playing RPGs since the mid 90s.
Jason got his gaming start in wargamming, CCGs and tabletop roleplaying, but then quickly discovered boffer LARPs. From there, he moved into World of Darkness parlor LARPs, even running a Shinning Host game for awhile. Ever since then, Jason has been running tabletop games and LARPs consistently. For two years, Jason was the Organizational Storyteller for the Cam/Anarch/Independent Alliance venue of Underground Theater. During this time, he also worked on various development think tanks for By Night Studios.
Now, Jason is pursuing developing his own projects and trying to teach himself how to write games.
Jason - The Favorite has hosted 51 Episodes.
Episode | April 10th, 2018 | Season 1 | 55 mins 55 secs

geeks, genre, roleplaying games

This week, the Curmudgeon, the Legend and the Favorite talk about the importance of clearly understanding and communicating what the game you are running is to your players to help balance expectation and manage the feel. It's about Communication, interpretation and expectation.

Episode | April 4th, 2018 | Season 1 | 1 hr 6 mins

accessibility, bleed, buzzwords, geeks, immersion, nordic larp

In their second episode, the Curmudgeon, the Legend and the Favorite discuss the current epidemic of buzzwords used to market tabletop gaming, LARPing and MUSHing. Accessible, blockbuster, bleed, immersion and transformative are just a few of the words Ryan, Carie and Jason explore.

Episode | April 2nd, 2018 | Season 1 | 56 mins 46 secs

demon master, dungeons & dragons, geeks, marvel superheroes, rpgs, shattered isles

In the very first episode of On A Roll, the Curmudgeon shares the tale of his first tabletop rpg and the demon who ran the game, The Legend recalls her first D&D game and The Favorite talks about his first boffer LARP. It's a trip through time that ends with exploring the idea of first games and how new players navigate their first exposure to the role-playing game hobby.